IEP中学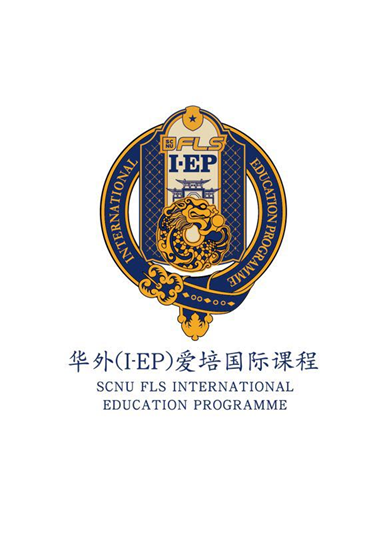 IEP中学项目介绍
IEP Middle School Program
爱培国际以促进东西文化融合为己任,用整体化教学方法培养青少年积极参与社区及家庭活动,承担责任,先人后己。
I.EP International are committed to promoting the integration of the Eastern and Western cultures, taking a holistic approach that educates young people to be active participants and leaders in their home and communities.
我们的使命:华南师范大学附属外国语学校I.EP是一个由学生、教师和家长共同营造的教育乐园,这里洋溢着乐观和创新精神,注重培养有探究精神的终身学习者。我们以中国传统价值观、信仰和文化知识作为基础,融合来自世界各地不同的观念,培养开放型的善良、正直的青少年。
Mission statement:



SCNU FLS is a place where all the members of the school community - students, teachers and parents work together to create a positive and innovative education environment. I.EP program, that is focused on life-long learning and personal excellence. We believe that traditional Chinese values, beliefs and culture lay at the foundation of our school, and by merging them with different perspectives from around the world, we aim to develop open-minded, kind and virtuous adolescents.
爱培IB
I.EP is the candidate school of the International Baccalaureate Organization. PYP and MYP, the both programs are committed to developing inquiring, knowledgeable and caring young people.
IB programmes are internationally developed and recognized educational frameworks that are highly regarded in many countries across the globe. They align with our goals for providing student-centered teaching and bringing real world, authentic experiences into the classroom. Holistic character development and in-depth mastery of skills and knowledge are of key importance to the program.
I.EP国际是IB国际文凭组织的候选学校。 IB国际文凭组织的目标是培养勤学好问,知识渊博,富有爱心的年轻人。
IB教育是国际公认最优质的教育体系,在全球众多国家和地区得到认可。 IB教育以学生为中心,教学与学习提倡以多种方式合作建构意义并理解世界。这种教育理念与我校爱培国际教育理念一脉相承。
一体化课程体系 Implementing the continuum
我们的优势是提供连续统一的小学和中学教育途径。教师、学生和家长共同建立一个学习者社区,通过探究、行动和反思来应对全球性挑战,培养在全球背景下具有国际情怀的人。
The strength of our program is providing a developed, coherent, meaningful educational pathway for students. Teachers, students and parents will recognize a common educational framework that exists across both programs—a consistent philosophy about teaching and learning that focuses on the development of the whole child, and an overarching concept of how to develop international-mindedness.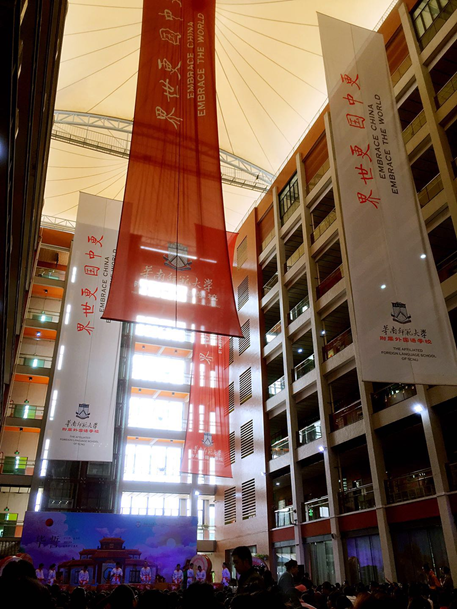 二、特色课程介绍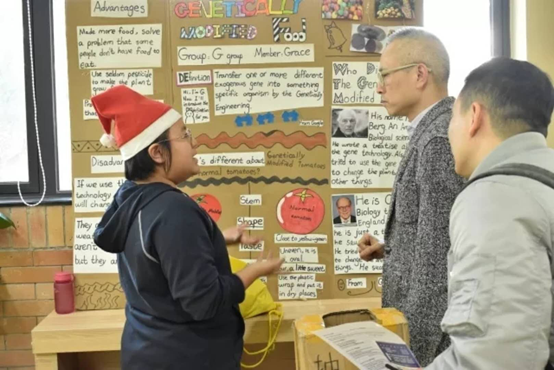 Introduction of Curriculum features
探究项目 Inquiry project

探究项目课允许学生综合使用他们在不同学科所学到的知识和技能。在这个课程中,学生们根据统一的概念了解、选择自己的主题,以个人或者小组方式进行目标设置。他们随后进行调研和评估、整理信息资源、组织展示信息并最后通过各种方式呈现他们的信息。
这个过程让孩子直接与真实世界的热点问题进行连接,并让孩子们见到他们如何与世界形成联系。他们需要应用到所学的各种技能进行跨学科的学习。这个过程既培养了他们的责任感和自我管理能力,也培养他们在与小组、他人交流过程中的的沟通协调技能、组织领导技能。
The Inquiry Project class is an opportunity for our students to put all the skills and knowledge that they are mastering from all of their subjects into authentic practice. In Inquiry class, the students work on investigating big concepts by choosing a focus, deciding to work as a group or individually, and to set goals for success and purpose. Students then research and evaluate their discoveries, verify the information as reliable or not, and how to apply the information to support the focus of their inquiry. Students then create a presentation to share their discoveries with the school and parents.
This process is tied to authentic, real world events and issues and helps the students to see how their efforts are a part of the global picture. They have to use skills mastered in multiple subjects to achieve their goals. They develop self-reliance and self-responsibility, as well as self-management skills since they are the driving force of the inquiry and projects. The staff provide support and guidance as needed, but ultimately the students are the ones making the choices.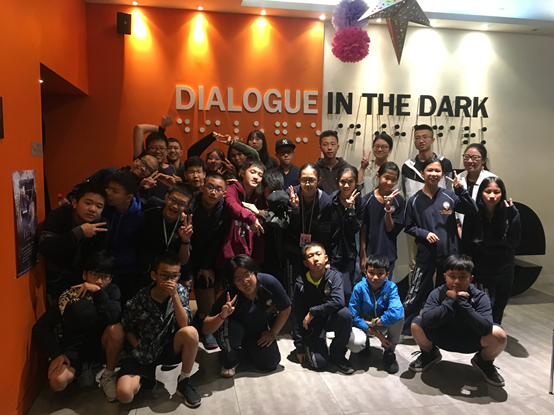 少年商学院项目 The Junior MBA Program
MBA课程为学生带来创新商业领导力设计的丰富课程,引导学生进行探索创新和创意的创业设计,学生可以在香港和来自全世界的学生共同讨论、分享、设计他们的商业创意,全方位提高国际竞争力。
The Junior MBA program (Junior Masters of Business Administration) provides many opportunities to explore innovative and creative business fundamentals, business design, and entrepreneurship. Through this program our students have opportunities to travel to Hong Kong, engage in activities with international students from other schools, and work on exploring and designing business ideas.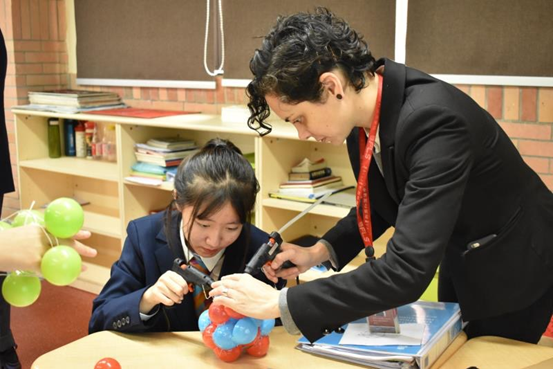 设计 Design
我们相信实践技能的学习是非常重要的,这正是我们在课程中安排各种学生能够动手动脑的课程的原因。通过设计课,我们希望我们的学生能够真正了解产品从创意到创作的过程,让我们所有的毕业生都能够敢做梦,敢追梦,并创造美好的事物。
We believe that the development of practical skills is very important, and that's why our students participate in multiple classes where they can engage in hand-on projects. We want our students to really understand the processes products have to go through from idea to creation; so that in the future all of our graduates will have the courage to dream big and create great things.
三、师资团队介绍
Introduction of Great Team
行政团队介绍 IEP Management Team
华师附外IEP项目拥有出色的行政管理团队,团队成员来自不同国家且具备丰富的教学及管理经验,展现了别具特色的国际化、先进化及多样化。
在副校长的领导下,IEP行政团队分工明确,认真负责,落实到位,重视反馈,办事效率高,充分体现了一支高质量团队应具备的职业素养。
SCNUFL has an outstanding professional management team for its IEP. The members of the leadership team are from different countries, and all have many years of teaching and management, exemplifying the international, progressive, and diverse culture of the IEP.
Under the leadership of Principal He, the IEP leaders have clearly defined roles. Each team member is conscientious and responsible and is committed to the highest standards of educational quality. The leadership team is constantly seeking ways to improve themselves so that they can better lead the IEP.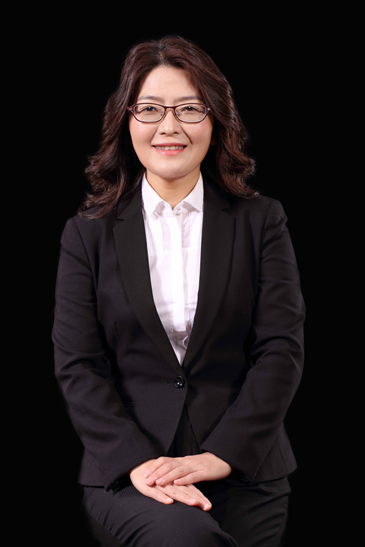 李红 Julia
华师附外副校长兼IEP总负责人 Vice Principal of SCNUFL
华南师范大学附属外国语学校副校长,学校校本课程研发的组织者和实践者。曾荣获剑桥英语明星教师称号,有二十年国际学校工作经验。有丰富的教育教学管理经验和对外交流工作经验。参加过北师大教育管理专业、美国伍斯特大学跨学科课程研发及香港公开大学教学管理研习班等。
Julia is the vice president of Affiliated Foreign language school of SCNU, Organizers and practitioners of the school-based curriculum development. She has won the title of "Cambridge English Star Teacher''and worked in international school for 20 years . She has rich educational and teaching management experience and foreign exchange work experience . She has participated in Education management major of Beijing Normal University, the Interdisciplinary Programs development of Worcester Academy in America and the seminar of open university teaching management in Hong Kong.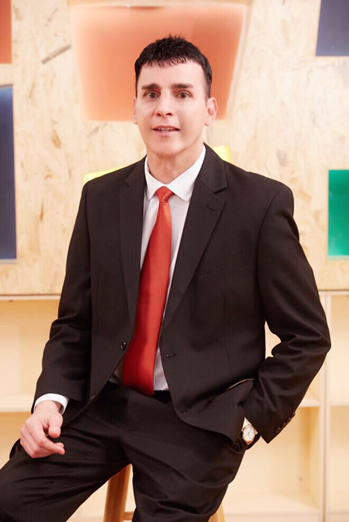 Tony Bazen
IEP学术总监 IEP Academic Supervisor
Tony来自美国,出生于北卡罗来纳州,也曾在伊利诺伊州和佛罗里达州生活过。这是他到中国的第三年,他爱这里,已经把中国视作自己新的家乡。
在教育领域,Tony拥有超过20年的工作经验,曾经担任过教师、教练、学术总监以及校长。在他的生命中,有几位老师曾深深地激励过他,他也有意愿在华师附外鼓舞我们的学生,让他们的生活与众不同。
Tony is an American who was born in the state of North Carolina but have also lived in Illinois and Florida This is his third year in China, and he really loves it. He considers China to now be his new home.
Tony has over 20 years of experience in education as a teacher, coach, academic supervisor, and Principal. He had several teachers in his life who really inspired him, and he desires to also make a difference in the lives of students here at SCNUFL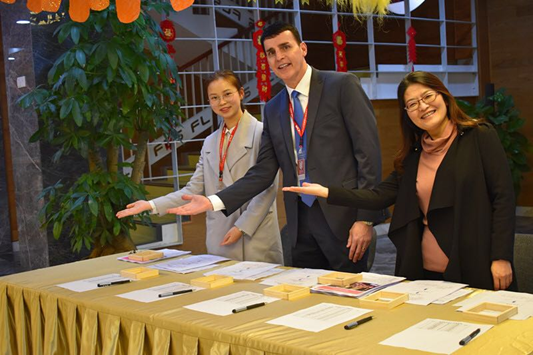 骨干教师介绍 Introduction of Core teachers team
I.EP教师团队来自世界各地,秉承追求卓越的学术精神,致力于融合东方、西方及国际教育的精髓,在学术总监及协调员带领下,每周集体备课、协作制定教学计划,实施超学科&跨学科整体化教学。教学既按严格的教学标准授课,又采用生动而富有启发的教学方法。我们的教师是学生的倾听者也是关爱学生的爱护者。
The I.EP teaching staff is truly an international team. Each teacher is dedicated to the pursuit of academic excellence, integrating the best practices of both Eastern and Western education to offer students a unique international education. Under the leadership of the Academic Director and Department Coordinators, teachers carefully plan each lesson according to the highest quality of pedagogical methodologies. Teachers strive to make their lessons relevant, engaging, and significant so that students can learn important concepts that will help them tackle life's challenges. Our teachers care about their students, actively listening to them and sincerely caring for them.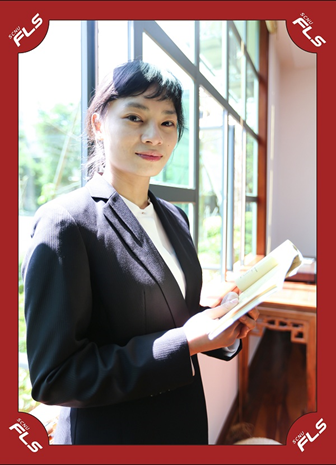 林淑贞 Lynn
MYP副主任Vice Program Director of IEP Middle School
Lynn毕业于广东外语外贸大学英语教育专业,现在正攻读香港教育大学"国际教育领袖及变革"硕士学位(IB领袖证书)。她有9年英语教学经验,期间参与英语课程的设计编写。自2011年开始她担任国际剑桥英语通用五级证书KET、PET考官。
她有7年IB国际学校工作经验,曾任IB MYP协调员助理、校长助理、英语组备课组长、班主任等。在国际教育项目、信息化教育领域均有独到见解。
2017年,她作为IB中国论坛分论坛分享者分享了关于教师团队建设的经验。
Lynn got her Bachelor Degree of English Language Education in Guangdong University of Foreign Studies. She's now pursuing her master degree of International Educational Leadership and Change in Hong Kong University of Education.
She has 9 year experience in English language teaching and she's been an Cambridge examiner for KET and PET exam since 2011.
She spent 7 years with IB international school, as Assistant to MYP Coordinator, Principal Assistant, English year group leader, Homeroom teacher. She was a presenter for breakout session in 2017 IB China Forum.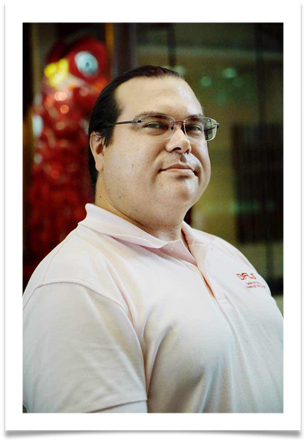 Travis Coyne
MYP Coordinator
IB MYP项目协调员
Travis老师是明尼苏达大学莫里斯分校基础教育专业学士。他获得IB认证资质,并获得明尼阿波利斯城市联盟学院年度教师称号。
他有超过20年美国、中国学校的教师经验。他在中国从事国际学校初中教学管理7年,中学外教学科带头人,IB中学项目协调员.
曾发表公众演讲:积极学习环境的营造"
Mr. Travis Coyne got his Bachelor degree for Elementary Education and Psychology in University of Minnesota-Morris. He received the Teacher of the Year Award in Minneapolis.
He has worked as a teacher in the United States and China for more than 20 years. The latest 7 years he has been focusing on Academic development in International middle schools. He was a keynote Speaker and shared about "Active Learning Environments".

Lisa
华师附外外教协调员FLS Foreign Affairs Coordinator
国际班设计课程教师IEP Design Teacher
Lisa 老师毕业于加拿大多伦多大学心理学学士,并研修了摄影学。她有八年以上的教学经验, 教学内容包括英文阅读&写作、艺术、摄影、和设计。她有超过16年的设计创意方面工作经验,包括休闲时装、食品研发、产品、内饰、创意摄影等设计工作,也曾在可口可 乐和Toni & Guy担任重要岗位。目前最大的追求是把创意的种子植入每一颗年轻的心智,期待每一个孩子的创造力都被极大地挖掘和释放出来!
Lisa May Loveless major in photojournalism and photography and psychology in Toronto University, Canada.
She has more than eight years of teaching experience. She has working experience in fashion, food, product, interior, and creative exhibition photography for 16 years.
She organized the annual photographic art exhibition with Ryerson University and had her own artwork in several exhibitions in Canada and China. She also has experience with running a magazine, Art Director and Layout Designer, creating advertising campaigns, billboards, music album covers, and more recently product design.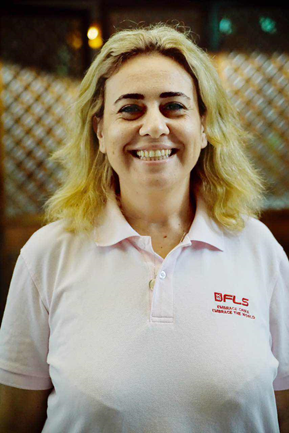 Nezihe Turkmen
语言习得学科组长Subject group leader for Language Acquisition
Nezihe 老师毕业于美国沃尔德大学并获得教育科学硕士。在她的学习课程中,她在设计、指导和评价专业有所钻研。她有超过20年英语教学经验,主要教授来自不同国家的学生英语。她持有K12教师资格证、获得IB认证资质并参与多次IB培训。她有丰富的剑桥YLE,KET,PET,FCE考试经验。
Nezihe Turkmen holds a Master Degree of Science in Education, Specialization in Curriculum, Instruction and Assessment (Grades K-12) in WALDEN UNIVERSITY, USA.
She has more than 20 years of teaching experience in English language teaching and holds a teaching certification K-12. She is IB Certified and has multiple experience with IB workshops addition to her 20 years of experience with English teaching to students from different countriesExperienced with Cambridge YLE, KET, PET, FCE exams.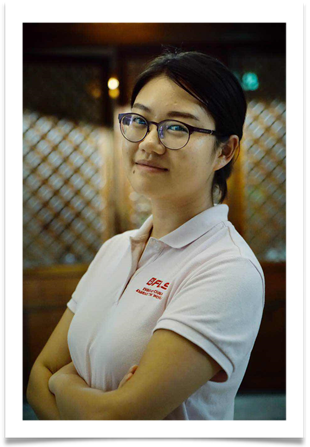 覃雯 Wendy
体育与健康 PE and Hearth
IEP中学首席导师IEP Homeroom Teacher
覃雯老师是华中师范大学运动训练硕士研究生, 已获得国家二级篮球运动员、一级社会体育指导员。她曾在华中师范大学校篮球队担任助理教练兼翻译。
她曾获得黄埔区青少年精英篮球赛 "优秀教练员"
她已获得苹果公司认证为Apple teacher,善于在教学中运用信息技术。
Miss Wendy Qin got her master degree in Sports Training in Central China Normal University. She is a National Level 2 Basketball Player from The Youth Basketball Competition in Hubei Province. She worked as Assistant Coach and Translator in CCNU School Basketball Team.
She's recognized Apply Teacher by Apple company and she's good at applying technology in her teaching.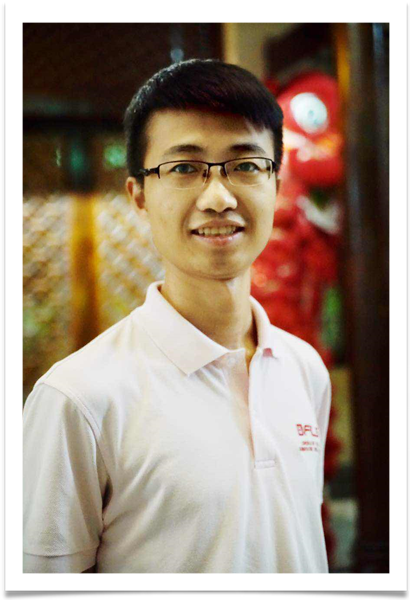 陈骁 Alvin
Language and literature /Chinese 语言与文学
IEP Homeroom Teacher IEP中学首席导师
陈骁老师毕业于海南师范大学教育学专业。他具备4年正规系统师范教学培训以及3年完整的汉语教学经验。他曾参加2013-2016年国家汉办与孔子学院组织的赴外汉语推广计划,授课风格风趣幽默又不失严谨。
陈老师性格温和,热爱阅读,热爱思考,希望与学生们一道,共同去拓展文学知识,养成精巧思辨能力,培养深厚的语文素养。
Mr. Alvin Chen major in Pedagogy in Hainan Normal University for his Bachelor degree. He has 4 years of formal training as a teacher and 3 years of Chinese language teaching experience.
He was teaching as a Chinese teacher in Anuban Ubonratchathani School.
Mr. Alvin is a kind teacher who loves reading and thinking. He is enthusiastic about teaching Chinese literature and would like to develop the kids in this aspect.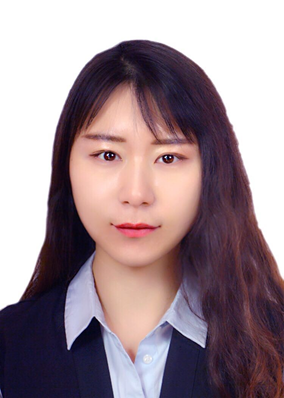 苑雪 Shirly
Shirly来自北京,毕业于首都师范大学。之前先后在北京的一所IB国际学校和一家美国教育机构工作,担任留学指导顾问。现在作为IEP的培训师加入华师附外,主要负责学生生涯规划和家长学院培训。她游历过很多国家,这给她带来了开放的思维和视野。非常乐于和学龄的孩子们一起合作,她深知——关乎教育没有小事。
Shirly is from Beijing, graduated from Capital Normal University which is known for training teachers. She used to work at an IB school in Beijing and an American education company, has experience in college application counseling. Now she's working at SCNUFL as a counselor in IEP department, in charge of Student Career Planning and Parent Academy Counseling. She's been to different countries that make her open minded. Shirly Always enjoys working with school aged students. She knows there's nothing small when it comes to education.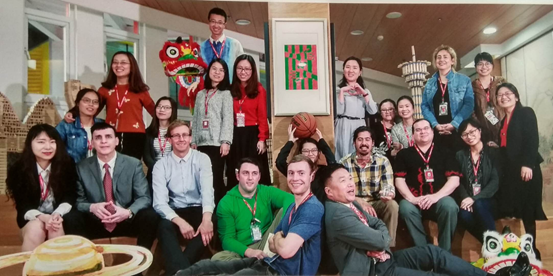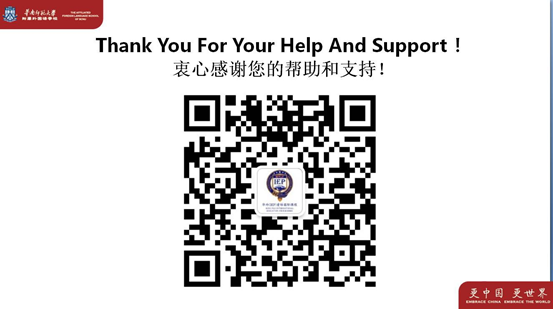 华师附外IEP欢迎您的加入!
Welcome to join our IEP family!